PRINCIPAL'S MESSAGE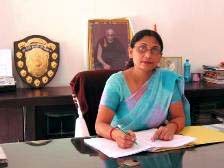 Principal : Deepali Ghosh
'FIRM DETERMINATION' and 'EFFORT' is the key of success. Keeping this view in mind our school was started. It is run by Sri Ghanshyam Narayan Manav Kalyan Sansthan' Pali, which was established in the year 1977 by the inspiration of Late Sri Ram Bhachan Bhai in the memory of Late Sri Ghanshyam Narayan Das. Sri Ram Bachan Bhai was the founder President of this school and also was a famous sarvodaya social worker who worked in conventional way of Sri Vinoba Bhawe. Sevral activities were started by this Sansthan and one of them is the establishment of this school Ghanshyam Narayan Public School (G.N.National Public School).
Since the first day the best that is possible for the education of the child is given in this institution. We believe that if education is to help us to meet moral challenge of the age and play its part in the life of community, that should be liberating and life giving,
Our school is dedicated to educating students' right from Nursery to +2 level. To give them the right type of education and training we have employed a highly educated and trained faculty to take care of. They are doing well and I believe if this trend goes on, a time will come when we can boast of the students who got education and training from our school to compete successfully in different competitions to set forth high level of success to build their future career. My utmost effort would be to monitor and maintain this trend as well as to ensure that the level of education does not fall than what is expected any time rather go ahead to meet the challenging future trend.